Aaron Stokes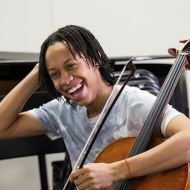 Production Manager | Chamber Music
Brooklyn-born musician Aaron Stokes is a young and enthusiastic multi-instrumentalist who is making conscious actions to enhance the world through the gift of music. His previously studied with award-winning cellist Amy Kim in the preparatory division of Mannes the New School for Music, and is now pursuing his Bachelor of Music degree under the tutorship of renowned pedagogue Marcy Rosen at the Aaron Copland School of Music, Queens College. In addition to his training, Mr.Stokes has coached with members of Ensemble Connect (a program of Carnegie Hall, The Juilliard School, and the Weill Music Institute, in partnership with the New York City Department of Education). Although Mr.Stokes has only been playing cello for 5 years, his passion for his instrument has led to notable performances at Carnegie Hall, The United Nations Head Quarters, Lincoln Center, and the National Arts Club.
Mr. Stokes is not only an expressionistic soloist, but has a strong focus within Chamber Music. He is an active member of the World Youth Alliance Chamber Orchestra. He has shared the stage with outstanding soloists and ensembles such as Kronos Quartet, Ryu Goto, Jack String Quartet, and the String Orchestra of Brooklyn.
Aaron Stokes also functions as a church organist every Sunday morning and is the founder of his own business, The Stokes Strings Conservatory. Through his business, he plans to enrich the lives of at-risk youth with weekly music education.