Kathy Wang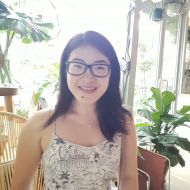 Administrative Manager
Pianist Kathy Wang recently completed her M.M. in piano at the Manhattan School of Music, where she studied with Arkady Aronov. A naturalized Canadian citizen, she earned her Bachelor of Music in Piano Performance from Western University in Canada, where she was a student of Tina Yanchus. Ms. Wang started her piano study at the age of eleven, and received her ARCT – a Performer's Diploma awarded by The Royal Conservatory in Canada – at the age of sixteen.
As a soloist, Ms. Wang has given performances in London (ON), Montreal, Toronto, and New York, and is an active participant in festivals and competitions in both Canada and the U.S. She is an enthusiastic collaborative pianist, having worked with instrumentalists and small ensembles of all sizes. Ms. Wang has a deep interest in contemporary music since a very young age, and was the pianist of the Western University's contemporary music ensemble. In June 2015, she participated in the Montreal Contemporary Music Lab, and gave performances at the Montreal Conservatory.
Ms. Wang is a dedicated music instructor with extensive experience in private teaching as well as theory and ear training, and enjoys working with children of all ages.