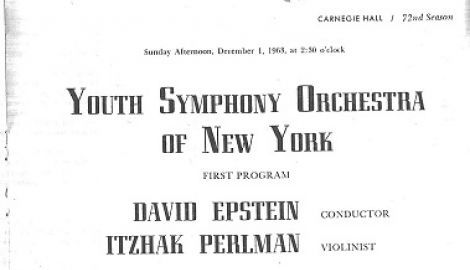 Opening Season 1963-1964
The Youth Symphony Orchestra of New York, comprised of 85 players ages 12 to 20, gives its opening concert on Sunday, December 1, 1963, at 2:30pm.  David Epstein, 33, who, with artist manager Simon Asen formed the organization, makes his conducting début; a 17-year-old Israeli violinist, Itzhak Perlman, as guest soloist; and actor Zero Mostel (whose son Josh was a violinist in the orchestra) as guest speaker.  Financing is made possible by Alexander's Department Store.
New York Herald Tribune:  "The Israeli violinist, Itzhak Perlman...was a dazzling soloist...and [the orchestra] played with the poise and precision of professionals."
The New York Times:  "In every way the orchestra...using players from 12 to 20 . . . lived up to its aim of exposing young people to good music." 
Billboard:  "The success of the venture was made stunningly apparent as they played the opening bars of Wagner's 'Prelude to Die Meistersinger', and they continued to amaze the audience with the rest of their professional program, which included Mendelssohn's 'Italian Symphony', Beethoven's Violin Concerto in D Major, and Britten's 'Four Sea Interludes' from the opera 'Peter Grimes'."
Concert of April 12, 1964, features New York première of the "Second Suite for Orchestra" (1947) of Walter Piston.  Guest speakers at the performance are Duke Ellington and U.S. Senator Jacob K. Javits.
Bruce R. Farkas is first president of the Board of Governors, which has 20 members, including Mercer Ellington and Zero Mostel.
Debut Concert

November 1, 1963
Soloist Itzhak Perlman, violin