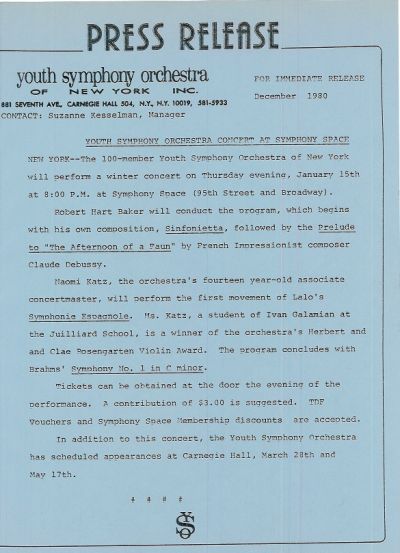 Season 19 1981-1982
Salvatore Scecchitano became music director.
Sponsored by the Heckscher Foundation for Children and Manufacturers Hanover Trust Company, the orchestra inaugurated a series of Community Concerts in Brooklyn, Queens, and the Bronx to provide additional free concert-going opportunities for New Yorkers.
Lorin Maazel was the guest of honor at October corporate musicale.
Orchestra joined with Oratorio Society of New York to perform Honegger's King David.  Assistant Conductor David Alan Miller, 20, makes conducting début in a performance of Mozart's Exsultate Jubilate, K. 165, with soprano Ann Mackay.
New York Times:  "Mr. Miller's neat balancing of the ensemble as it accompanied a season Stefan Reuss in Saint-Saëns' Cello Concerto in A (Op. 33) augurs well for his stewardship.  The highly successful account of Chausson's 'Poème', over which Mr. Scecchiatano presided, found the orchestra provided sensitive and stylish support for the soloist, the violinist Daniel Lewin."  (Theodore W. Libbey, Jr.)
Chamber Music
Chamber Music Players (later "Program") was launched under the direction of clarinetist Alan Kay.  The purpose was to give the orchestra members a chance to study works outside the symphonic repertory.
Administration
Scott Clugstone is appointed Executive Director.
Debut Concert

November 29, 1981
Soloist Julie Bees

Spring Concert

May 8, 1982
Soloist Stefan Reuss