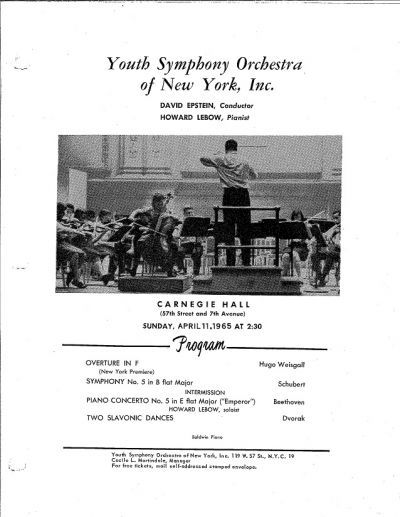 Season 2 1964-1965
The opening of the orchestra's second season, featured the New York première of Wallingford Riegger's Third Symphony, Op. 42.
Richard Rodgers made a generous donation to help defray expenses. He says: "The orchestra . . . is an outstanding training ground that enables talented youngsters --regardless of race, creed, or background-- to make an important contribution to the cultural life of the city."
New York World-Telegram and Sun:  "On stage, the bright-eyed aspirants of future fame put on a dazzling show.  One could close one's eyes and think they were a veteran ensemble discoursing musical wisdom.  They sounded that experienced."
New York Times:  "What a relief to hear a youth orchestra that matches its good intentions with its deeds!  One was impressed not only by the concentration of the players in this difficult program, but by the way they responded to Mr. Epstein's direction."

Administration
Mrs. Florence Jonas is President of the Board of Trustees.
Cecile L. Martindale is Manager.
Debut Concert

December 6 1964
Soloist Yoko Matsuda