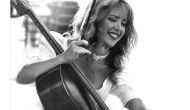 Season 20 1982-1983
21-year-old David Alan Miller became music director. (He will later become the Associate Conductor of the Los Angeles Philharmonic as André Previn's assistant; he subsequently served as the conductor of the Albany Symphony Orchestra).  Alan R. Kay is Assistant Conductor.
17-year-old Canadian cellist Ofra Harnoy made New York début with the orchestra on December 12, 1982, performing Tchaikovsky's Nocturne for Cello and Orchestra, Op. 19, No. 4, and the Variations on a Rococo Theme, Op. 33.
New York State Senator Emanuel R. Gold was named honorary conductor for a concert in Queens in February 1983.  He lead the orchestra in The Star-Spangled Banner.
Orchestra gave the American première of Schubert's Symphony No. 7, as realized by Brian Newbould from the uncompleted manuscript.  Edward Rothstein writes a feature piece on the event for The New York Times, 2/20/83.
Daily News:  ". . . thanks to [conductor David Alan Miller's] perfectly chosen tempos and fervent, yet controlled romance, the music sprang to pulsating life throughout."  (Bill Zakariasen  3/1/83)
Assistant Conductor Alan R. Kay made conducting début with Brahms's Academic Festival Overture.
Underwritten by McGraw-Hill, an annual concerto competition is inaugurated, the winner to appear as soloist with the orchestra at its final concert of the season.  It was won by Roberto Minczuk, a 16-year-old Brazilian horn player, who says that winning this competition ". . . is the greatest thing that's ever happened to me."
Administration
Barry Goldberg is appointed Executive Director on April 14, 1983.
Debut Concert

December 12, 1982
Soloist Ofra Harnoy

Spring Concert

May 15, 1983
Soloist Roberto Minczuk