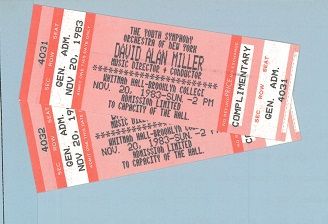 Season 21 1983-1984
The orchestra performed a special concert with 91-year-old Mieczyslaw Horszowski as piano soloist at a "Concert for Peace" (October 15) in the Cathedral of St. John the Divine.
The orchestra presented the première of the original version of Mussorgsky's Night on Bald Mountain.
Daily News:  "Despite the tough technical demands, the performance was amazingly good in all aspects." (Bill Zakariasen  11/29/83)
Pianists Lillian Kallir and Claude Frank, whose daughter Pamela Frank had been a violinist with the orchestra from 1977 to 1981, perform at National Arts Club in Gramercy Park as a benefit for the orchestra.  The concert was followed by a cocktail reception.
The orchestra gave the American première in April of Louis Spohr's Third Symphony in the composer's 200th birthday year.
The New Yorker:  "The players . . . play with an eagerness and spirit seldom heard at the Philharmonic, and they are accomplished.  Mr. Miller, a gifted young conductor, led a supple, graceful performance . . . ."  (Andrew Porter  6/4/84)
Debut Concert

November 27, 1983
Soloist Anne-Marie McDermott

Season 21 Winter Concert

March 3, 1984
Soloist Mary Ann Hart

Spring Concert

May 13, 1984
Soloist Alicia Chapman