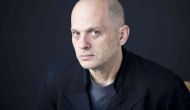 Season 22 1984-1985
Lillian Kallir solos with the orchestra in another free "Concert for Peace".
Zubin Mehta was the guest speaker at the ninth annual Celanese-sponsored corporate musicale and luncheon.
Pianist Peter Serkin gave a benefit recital for the orchestra at the National Arts Club in celebration of the 22nd season.
Backed with a grant from the Exxon Corporation, the orchestra launched "First Music," to commission three American composers to write new works for world première with the orchestra.  The composers chosen were David Lang, whose Flaming Youth opened the season, Ronald Caltabiano, and Aaron Kernis (later to win the Pulitzer Prize for Music).  Tim Page of the New York Times devotes a lengthy article in December to the event.
Season 22 1984-1985

February 24, 1985
Soloist Gustavo Romero

Spring Concert

May 26, 1985
Soloist Emi Ohi Resnick