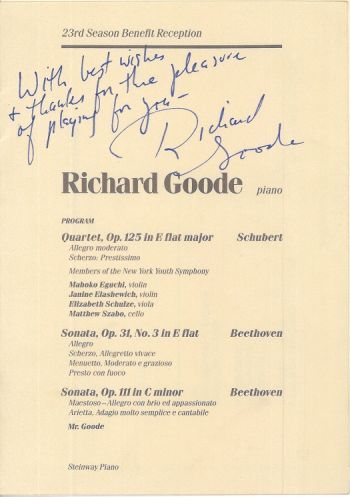 Season 23 1985-1986
Pianist Richard Goode was the guest soloist at the Asia Society for the 23rd anniversary benefit in May.  Leslie Garfield was honored for 21 years of dedication to the orchestra (12 as president).
Chamber Music Program
Masters Coaching Program is initiated to provide sectional coaching to members of the orchestra.  The Chamber Music Program is institutionalized with masterclass coaches such as cellist Joel Krosnick (Juilliard Quartet), violinist Eugene Drucker (Emerson Quartet), and cellist Fred Sherry (an alumnus and member of the Chamber Music Society of Lincoln Center)
First Music Commission
First season of "First Music" series wins First Prize in the Youth Orchestra Division of the American Symphony Orchestra League in the ASCAP Awards.  High Fidelity magazine featured a full-page spread on the event.  
Season 23 Winter Concert

February 16, 1986
Soloist Lauren Wagner

Spring Concert

May 3, 1986
Soloist Tara Helen O'Connor