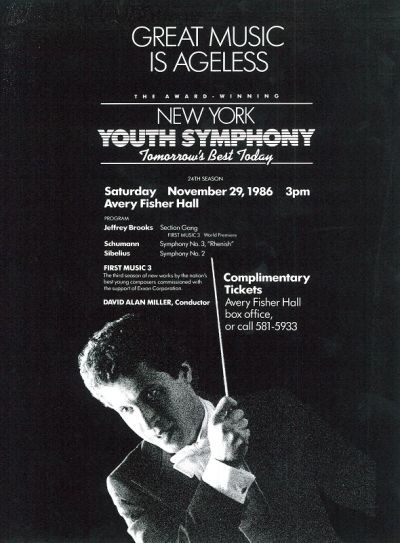 Season 1986-1987
Allen Hughes chose the recently renamed New York Youth Symphony for his column "Critics' Choices" in The New York Times (11/23/86).  He writes, "This training ensemble has been brought to new levels of achievement under the dynamic leadership of Mr. [David Alan] Miller.  . . . The 105 players, all between the ages of 12 and 22, are proficient instrumentalists, and they play together with remarkable efficiency and élan."
Pianist André-Michel Schub performed for the 24th season benefit reception, which again took place at the Asia Society.
Administration
Actress Celeste Holm was the keynote speaker at a June luncheon meeting at Bargemusic and hosted by the New York Youth Symphony for the Youth Orchestra Division of the American Symphony Orchestra League during its annual conference.  Barry Goldberg was chair of the Youth Orchestra Division.
Season 24 Winter Concert

March 1, 1987
Soloist Pamela Frank

Spring Concert

March 22, 1987
Soloist Daniel Matsukawa