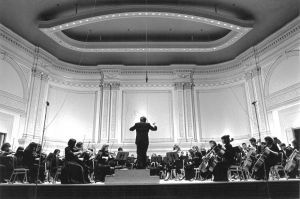 Season 30 1992-1993
The NYYS opened it's 30th season with guest artist Andrew Watts.
NYYS celebrated its 30th anniversary season concert and benefit at Carnegie Hall in December with violinist Cho-Liang Lin.
June LeBell of WQXR-FM was Mistress of Ceremonies for Concerto Competition finals, funded by a grant from the New York Times Company Foundation.  She says, "The New York Youth Symphony is a window to the future.  It lets in all the light, exuberance, talent and brilliance of tomorrow's finest musicians."
Chamber Music Program
In February, ensembles of the Chamber Music Program initiated its annual performances at the National Arts Club in Gramercy Park.
NYYS is awarded with the Congressional Proclamation
Debut Concert

December 6, 1992
Soloist Cho-Liang Lin

Season 30 Winter Concert

February 21, 1993
Soloist Jose Feghali

Spring Concert

May 23, 1993
Soloist Myung-Joo Ahn