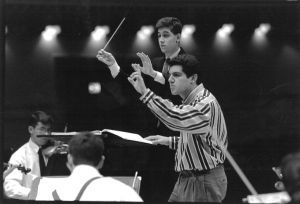 Season 31 1993-1994
Miguel Harth-Bedoya was named music director. (He will later become the Associate Conductor of the Los Angeles Philharmonic under Maestro Esa-Pekka Salonen, as well as Music Director of the Eugene Symphony of Oregon, the Auckland Philharmonia of New Zealand, and the music director of the Fort Worth Symphony Orchestra.)
Under the direction of New York Philharmonic music director Kurt Masur, members of the NYYS orchestra demonstrated the use of their instruments for the 500th Young People's Concert at Lincoln Center in January, and again in March when former NYYS music director Leonard Slatkin performs with the Philharmonic.
Chamber Music Program
André Watts lead a masterclass series for the Chamber Music Program.
Pianist Mischa Dichter played at 31st annual benefit performance.
First Music Winners 1994
Debut Concert

December 12, 1993
Soloist Misha Dicter

Season 31 Winter Concerts

February 27, 1994
Soloist David Shifrin

Spring Concert

May 22, 1994
Soloist Matthew Scheffelmann