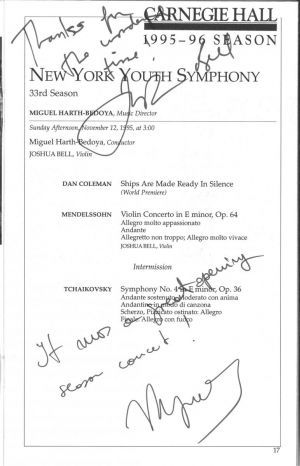 Season 33 1995-1996
Violinist Joshua Bell performed Mendelssohn's Violin Concerto at a benefit performance in November.
When Leonard Slatkin is delayed in Washington, D.C., by the 'Blizzard of '96', Miguel Harth-Bedoya leads the New York Philharmonic in Lincoln Center's Avery Fisher Hall in his place.  The performance included Richard Danielpour's Toward the Splendid City.  The orchestra joined the audience in applause.  Mr. Slatkin appeared for the final piece on the program.
The Jubileren Chorus, based in Delaware, makes its Carnegie Hall début with the orchestra in a performance of Beethoven's Ninth Symphony.
Debut Concert

November 12, 1995
Soloist Joshua Bell

Season 33 Winter Concert

February 18, 1996
Soloist Alex Slobodyanik

Spring Concert

May 12, 1996
Soloist Geraldine McMillian