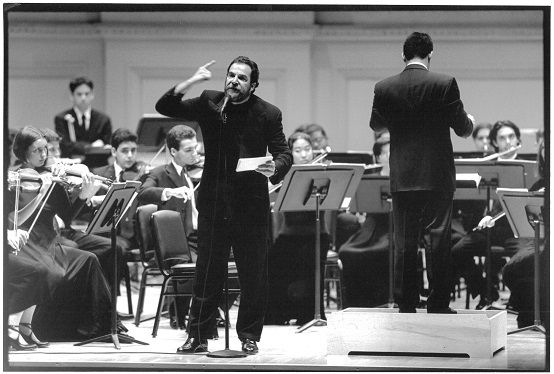 Season 34 1996-1997
WQXR-FM featured the orchestra performing Beethoven's Ninth Symphony on "McGraw Hill's Young Artists Showcase."
Maestro Kurt Masur presented The Theodore L. Kesselman Award for Arts Education to Phyllis Mills at the annual benefit performance in December.  At the same concert, Martin Bookspan was master of ceremonies, and flutist Eugenia Zukerman performed Mozart's Andante for Flute and Orchestra in C Major.
Cellist Alisa Weilerstein, 14, made her Carnegie Hall début performing Dvořák's Cello Concerto at the March concert.
The New York Times:  " . . . these concerts have always attracted listeners who simply want to hear exciting, unjaded music making, and this one provided it."  "The youths in the orchestra range in age from 12 to 22, and their level of technical and musical accomplishment is remarkable." 
"Miss Weilerstein played . . . with boldness, assured technique and vibrant tone.  And the orchestra under Mr. Harth-Bedoya was with her all the way."  "The New York Youth Symphony has a good track record of presenting young talent.  At its very first concert a 17-year-old violinist named Itzhak Perlman was the soloist."  (Anthony Tommasini  3-4-97)
Actor Mandy Patinkin was the guest artist for the 5-18-97 orchestra concert in Carnegie Hall, performing Copland's "A Lincoln Portrait."  Miguel Harth-Bedoya conducts.
Chamber Music Program
Lisa Kozenko, head of the Chamber Music Program, won the 1997 Heidi Castleman Award for Excellence in Chamber Music Teaching.  The award included a $1,000 prize.
Debut Concert

December 15, 1996
Soloist Eugenia Zukerman

Season 34 Winter Concert

March 2, 1997
Soloist Alisa Weilerstein

Spring Concert

May 18, 1997
Soloist Mandy Patinkin