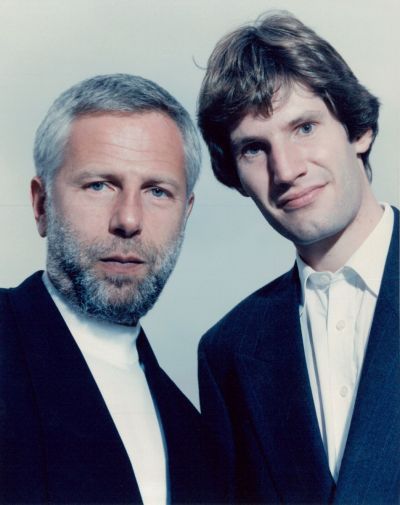 Season 35 1997-1998
Mischa Santora, 26, was named music director.
Composer John Corigliano chairs the Advisory Committee for First Music 14.
At the benefit performance for the 35th season, pianist Vladimir Feltsman celebrated the 10th anniversary of his own Carnegie Hall début by performing Rachmaninoff's Rhapsody on a Theme by Paganini.  At the same concert, Beverly Sills and Isaac Stern present The Kesselman Award for Arts Education to Carlos Moseley and Midori, respectively.  Jamie Bernstein Thomas serves as the ceremony's host.
The New York Times:  The orchestra ". . . performs at a level that leaves listeners admiring the devotion of both the young players and the conductors who work with them."  The Dvořák Symphony No. 6 (performed in the second half of the concert) "was a fully professional performance, with fine brass playing, a crystalline wind tone, all the lushness one could want from the strings and both the right suppleness for the Adagio and sufficient fire in the Furiant.  Mr. Santora shaped his phrases thoughtfully, and the players responded to his clear, graceful gestures."  (Allan Kozinn  12-19-97)
Violinist Amy Schwartz made her Carnegie Hall début in February as part of The Roy and Shirley Durst Début Series, playing Mozart's Concerto No.5 inA Major.
The New Yorker:  " . . . promising performances of the up-and-coming generation."  (2-16-98)
The New York Times:  "Not all hope to become professional musicians, but they clearly put considerable effort into their work with the orchestra.  In recent seasons, several music reviewers have noted the high level of the ensemble's performances in fully professional, fully demanding repertory.  The orchestra has also been a training ground for conductors who have gone on to bigger things; Leonard Slatkin and Samuel Wong are among its past directors."  (Kozinn  5-15-98)
French hornist David Jolley performed Richard Strauss' Horn Concerto No. 1in E-flat Majorat the May concert.
The New York Times:  "A result of this intensity and discipline is the kind of polished, energetic performance the Youth Symphony gave in the final concert of its 35th season on Sunday afternoon."  "In the Rimsky-Korsakov, and later in Strauss' 'Death and Transfiguration', the strings played with the warmth and suppleness one expects from a fully professional ensemble."  "In another Strauss score, the Horn Concerto No. 1, Mr. Santora and his players gave a robust, full-bodied performance, against which David Jolley's solo horn line shone brilliantly."  (Kozinn  5-20-98)
Debut Concert

December 14, 1997
Soloist Vladimir Feltsman

Season 35 Winter Concert

February 15, 1998
Soloist Amy Schwartz

Spring Concert

May 17, 1998
Soloist David Jolley