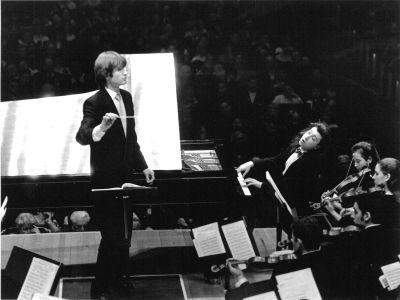 Season 36 1998-1999
The 36th Season benefit honored Nathan Leventhal, President of Lincoln Center, with the Theodore L. Kesselman Award for Arts Education.  The event, held at the Marlborough Gallery featured a serenade by world-renowned clarinetist Richard Stolzman.
The Youth Symphony concluded the year with a powerful program, featuring Tchaikovsky's Concerto Violin Concerto with soloist Nadja Salerno-Sonnenberg.  The program was rounded out by Shostakovich's Symphony No. 5, a music tour de force.
First Music alumni Michael Torke and Aaron Jay Kernis werecommissioned by the Walt Disney Company to write choral symphonies in celebration of the Millennium.
First Music Commission
First Music 16 winner Carter Pann composed Rags to Richard which is premiered magically by Richard Stolzman at the opening December concert.  The composition, a pair of dance movements based on ragtime, spotlights both the orchestra and soloist in this modern jazzy showcase.
The New York Times heralds Maestro Mischa Santora for his performance of Brahms Second Symphony.  "When it comes to making new music a natural part of the concertgoing experience, few orchestras in the United States can match the record of the New York Youth Symphony."  "The musicians seem excited by him (Mischa Santora), and with good reason:  he is a solid technician and a sensitive musician."  (Tommasini  12-15-98)
Apprentice Conducting Program
The Apprentice Conducting Program is "revitalized" by Director Mischa Santora.
Curtis Institute Alumni "Overtones":  " 'For me, this was a fantastic opportunity, especially after graduating from Curtis', said Mr. Santora.  'The New York Youth Symphony is a fine orchestra to work with, and it is a wonderful organization that is very supportive of young conductors and young artists in general'."  " . . . 'this is a phenomenal opportunity to enhance my conducting skills while being exposed to a great audience'."
The New York Times:  "Over the years, the remarkable New York Youth Symphony has been visited by some renowned guest soloists.  The inspired young musicians can learn something from these role models, who always perform without a fee."  About Shostakovich's Fifth Symphony:  "Mr. Santora, conducting from memory, led a spacious, resonant and accomplished performance."  ". . . in performing a new work by an emerging composer on almost every program the Youth Symphony offers its players an example of true dedication."  (Tommasini  5-27-99)
Debut COncert

December 13, 1998
Soloist Richard Stoltzman

Season 36 Winter Concert

March 7, 1999
Soloist Vitalij Kuprij

Spring Concert

May 23, 1999
Soloist Nadja Salerno-Sonnenberg