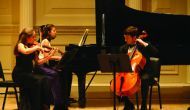 Season 37 1999-2000
The orchestra opened the season with Mozart's Exsultate, jubilate with soprano Benita Valente and Elgar's Enigma variations.
The New York Times:  "The New York Youth Symphony often gets compared to professional orchestras, and one can hear why.  Its music making is alive and full; its players are thoroughly prepared and very able."  " . . . they have a freshness and drive that seasoned ensembles are going to rediscover only very occasionally."  "Mischa Santora, their current conductor, is evidently maintaining the high standards of his predecessors.  A tall man, he makes gestures that are ample, clear and encouraging, directed to the players, not the audience.  His aims suit these young musicians, being immediate and strong, but he also stretches them toward subtlety of blend and refinement of phrasing.  The performance they gave together of Elgar's 'Enigma Variations' was splendid.  In tempo, sonority and rhythmic shaping, the variations were well characterized, covering the range from nobility and nostalgia (qualities often mixed in Elgar, and mixed here) to delicacy.  Excellent work came from the cellos, brass, string and woodwind soloists and a crack timpanist."  (Paul Griffiths  12-14-99)
First Music winner John Mackey composes Concerto for Percussion and Orchestra, which showcases Samuel Z. Solomon in his Carnegie Hall debut.
The Youth Symphony is honored as the first youth orchestra chosen to be presented on a regular Carnegie Hall series in a Family Concert entitled "Feelings."  The orchestra collaborates with the Flying Machine, a troupe of theater artists, whose interpretation of Stravinsky's Petrouchka marks the highlight of the concert.
Alumni (and husband and wife) Pamela Frank, violinist, and Andy Simionescu, violist, reunite on stage to perform Mozart's Sinfonia Concertante.  The couple first met in 1978 while members of the orchestra and used this occasion to celebrate their first wedding anniversary.
The New Yorker:  "Since its founding thirty-seven years ago, this nationally recognized orchestra has served as a training ground for many of New York's most talented musicians on the rise." (5-29-00)
Debut Concerts

December 12, 1999
Soloist Benita Valente

Season 37 Winter Concert

February 6, 2000
Soloist Samuel Z. Solomon

Spring Concert

May 28, 2000
Soloist Pamela Frank