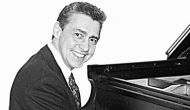 Season 38 2000-2001
Mischa Santora was appointed Music Director of the Cincinnati Chamber Orchestra, succeeding Keith Lockhart.
The orchestra opened its 38th season in Carnegie Hall in December with pianist Cecile Licad performing Beethoven's Third Concerto and a performance of Richard Strauss's Ein Heldenleben.  Jacques d'Amboise was honored with the presentation of The Kesselman Award for Arts Education.  The Broadway actress, Charlotte d'Amboise, his daughter, is the presenter.  Schuyler Chapin serves as master of ceremonies.  Opening greetings are delivered by Franz Xaver Ohnesorg, the new executive director of Carnegie Hall.
The orchestral season featured three piano concertos of Beethoven.  A pre-concert lecture series is devised focusing on "Beethoven's Brain."
The orchestra's February concert was highlighted by performances of Tchaikovsky's Symphony No. 4 and Beethoven's First Piano Concerto with Andrius Zlabys, the fifth artist to make a début at Carnegie Hall through The Roy and Shirley Durst Début Series.
The New York Times:  "Concerts by the New York Youth Symphony are always rewarding because these musicians play so eagerly for their inspiring conductor, Mischa Santora. . . . The New York Youth Symphony includes the premiere of a commissioned work on every program, which gives it the most impressive record for championing new music of any ensemble in the United States." (Tommasini 5-18-01)
Pianist John Browning performs Beethoven's Fifth Concerto, the "Emperor," as part of the orchestra's closing performance of the season in Carnegie Hall in May.  Mischa Santora conducts Mahler's Symphony No. 1, "Titan."
The New York Times:  "Since 1984 the adventuresome New York Youth Symphony has presented a premiere performance of a new work by a composer under 30 on every one of its programs.  This means that an orchestra of students ranging in age from 12 to 22 has arguably the best record for commissioning new music of any ensemble in the United States."  " . . . they (the musicians) provided a refreshing break from the slick professionalism that major orchestras often bring to such an assignment."
" . . .Mr. Santora conducted an involving performance of Mahler's Symphony No. 1, the Titan."  " . . . these palpably engaged musicians played with impressive vigor, often poignant expressivity and an apt sense of Mahlerian ebb and flow." (Tommasini 5-23-01)

Ching Wen Hiaso, piano soloist, Queens College
Chamber Music Program
In March, the Chamber Music Program holds "An Evening of Chamber Music" at The Harvard Club and concludes its season at Weill Recital Hall in May.
Chamber Music magazine:  " . . . the Chamber Music Program of the New York Youth Symphony has established itself as one of the most well-respected ensemble music training programs in the country."  (February 2001)
Making Score Program
The Making Score Program was launched.  Directed by Derek Bermel, the program encourages young musicians to explore the worlds of orchestration, arranging, and composition.  Classes are conducted at ASCAP.
In May, the Making Score program presented its first season-end recital at Greenwich House Music School of new works by six of its participants.
Administration
The Surdna Foundation awards a matching three-year grant of $180,000 to support the orchestra's educational programs.
Debut Concert

December 10, 2000
Soloist Cecile Licad

Season 38 Winter Concert

February 25, 2001
Soloist Andrius Zlabys

Spring Concert

May 20, 2001
Soloist John Browning