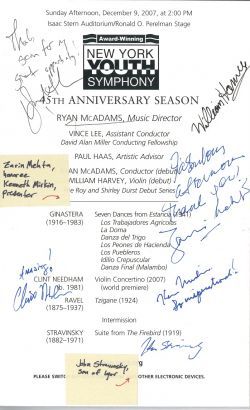 Season 45 2007-2008
The orchestra opened 12-9-07 in Carnegie Hall with the début of Music Director Ryan McAdams, the 15th since the orchestra's founding in 1963.  The program included Ginastera's "Seven Dances from Estancia," Stravinsky's Suite from "The Firebird," and two performances featuring Durst Début Series artist William Harvey, a violinist.  Mr. Harvey performs Ravel's "Tzigane" and the First Music-commissioned work, "Violin Concertino," by Clint Needham.
John Stravinsky, grandson of the composer, is in the audience as a guest of an orchestra parent.
The New York Times:  "Mr. McAdams, 25, faces no small challenge.  The Youth Symphony is an accomplished, ambitious group of players ranging in age from 12 to 22.  Mr. McAdams's tenure follows that of Paul Haas, a charismatic conductor whose adventurous programs drew attention to the orchestra.  (Mr. Haas remains an artistic adviser to the group.)  . . . Following an intermission, the Youth Symphony presented its Theodore L. Kesselman Award for Arts Education to Zarin Mehta, the executive director of the New York Philharmonic.  Afterward, a rousing account of Stravinsky's "Firebird" Suite (1919) offered further compelling evidence that the Youth Symphony is in good hands with Mr. McAdams."  (Steve Smith  12-11-07)
The annual benefit centered around the orchestra's opening honored Zarin Mehta, President and Executive Director of The New York Philhamonic, with the 13th presentation of The Theodore L. Kesselman Award for Arts Education.  The ceremony took place onstage with Philharmonic violist and NYYS alumnus Kenneth Mirkin presented the award and NYYS Trustee Elliott Forrest serving as emcee.
The Orchestra's winter performance in Carnegie Hall on 3-16-08 was highlighted by five selections of Charles Ives, three songs of which are sung by mezzo-soprano Kate Lindsey in her Carnegie Hall début, in addition to a new work, " . . . among the leaves . . . ," by First Music composer Jacob Bancks.  Concluding the program are "Symphonic Dances from West Side Story," by Bernstein.  Ryan McAdams conducts.
The New York Times:  "Since 1963 the New York Youth Symphony has given musicians aged 12 to 22 experience playing in an orchestra, and these days its 240 participants also study composition, conducting, chamber music and jazz. It may not have the grand reach of the Venezuelan Sistema, which has lately given the musical world the conductor Gustavo Dudamel. But with a $1 million scholarship program, its contribution to musical training is important.  . . . Mr. McAdams closed the program with an energetic, rhythmically flexible performance of Bernstein's Symphonic Dances from West Side Story.''  (Allan Kozinn  3-18-08)
The 45th season concluded 5-25-08 in Carnegie Hall with the orchestra's performances of First Music composer's Lembit Beecher's "Faded, Manic, Black and White" for percussionist James Deitz; the "Concerto Fantasy" for two timpanists by Philip Glass with Mr. Deitz joined by Svet Stoyanov; and Rachmaninoff's Symphony No. 2.
The New York Times:  "A warm sound and a shapely approach to Rachmaninoff's singing themes go a long way here, and Mr. McAdams and his players gave those qualities a high priority.  Mr. McAdams's balletic conducting, with its sweeping gestures and careful, alert cueing, gave the impression that he knew what he wanted to do with this hefty work, and the orchestra seemed to give him what he asked for.  So if the sprawling first movement never fully jelled, it was hard not to admire the beautifully inflected violin lines and the fully unified woodwind and brass playing.  And the orchestra scored points for the unbridled vigor it brought to the finale."  (Allan Kozinn  5-27-08)
The 16-member band opened its sixth season in Symphony Space with the first time set of two performances on 12-14-07 and 12-15-07.  The program, called "In Walked Love," is highlighted by jazz vocalist Suzanne Morrison and directed by Chris Winans in his second season.
The first party held by the Alumni Association took place at Symphony Space prior to Jazz Band Classic's performance on 12-15-07.  An honored guest was alumnus Kenneth Mirkin, a violist with The New York Philharmonic.
The 16-member ensemble gave its winter performances with guest soloist Scott Wendholt, trumpet, in Symphony Space on 3-28-08 and 3-29-09.  The program centers on "My Boy Bill," the arrangements of Bill Holman.  Chris Winans directs.
The big band gives its sixth season finale in The Allen Room of Jazz at Lincoln Center on 5-22-08.  Tenor saxophonist Joe Lovano was the guest artist in a program called "Legendary Lovano," highlighted by his music as well as that of Thad Jones and Bob Brookmeyer, among others.  Chris Winans directs.
The program held its season-end performances in Symphony Space (4-2-08 and 4-24-08) and in Weill Recital Hall on 4-30-08, the last featuring the Program's best ensembles.  Violist Daniel Phillips of the Orion String Quartet joins an ensemble as its mentor in a Brahms piano quartet.  The 19th First Music composer of the Chamber Music Program, Michael Djupstrom, offers the première of his "Long, Long Ago" for string quartet.  Lisa Tipton directs the Program.
The choral group began its second season 12-19-07 with a program entitled "Mysterioso," including sacred works by Bernstein, Brahms, Handel, and Verdi, among others.  The ensemble is led by Vince Lee.
Music Director-designate of The New York Philharmonic Alan Gilbert rehearses the NYYS orchestra in "Symphonic Dances from West Side Story."  The event took place at Riverside Church on 3-9-08.
Concluding its program in the second season, Vince Lee directed the small ensemble in "Operatic Gems" by Bizet, Debussy, Mozart, and Verdi in Symphony Space on 5-21-08.  Eric Guinivan, First Music composer, presents the première of his "Two Love Songs" on poems by Sara Teasdale for the chorus.  Vince Lee conducts.
The composition program had its season finale, "Composition Date:  2008," in Symphony Space on 5-7-08 with the new compositions of 16 student participants.  Director Derek Bermel hosts his farewell program as director.
The Board of Trustees honors Derek Bermel for eight years as director of Making Score and announced the creation of "The Derek Bermel Award for Commitment and Achievement," to be presented annually to a Making Score student.
Get-On Music
The "Get-On Music" project was created to bring disadvantaged youths to NYYS performances, acknowledging participation during the season with the Starlight/Starbright Children's Foundation and the Paul Robeson High School in Brooklyn.
Performances for Special Audiences
Teen Strings magazine:  In an article about the NYYS' "Performances for Special Audiences" project to bring music to children with disabilities, the magazine reports,
"Sixteen-year-old musician Christina Hughes had a few concerns when she first arrived at the Sloan Kettering Cancer Center in New York City.  First of all, her quintet hadn't rehearsed much, so she didn't know how it would sound. Second, the quintet had only prepared one movement of a piece and she wasn't sure if the program would be long enough.  Since she had never played in that venue before, she also didn't know what the acoustics were like.  And she'd never performed for an audience of cancer patients, so she really didn't know what to expect.
Her concerns, however, disappeared once the audience settled in and the concert began.
"Everyone was just happy that we were there to play music and brighten their day," Hughes says.  "I remember more and more patients being walked or wheeled into the room because they heard us playing and wanted to listen."
Playing for a hospital audience also turned out to be more interactive and casual than the usual concert-hall routine.
Hughes is one of the many New York Youth Symphony musicians who participate in the orchestra's program, Performances for Special Audiences: Bringing Joy to Children with Special Needs, funded by the Joseph F. McCrindle Foundation.  The program sponsors about ten concerts each year in hospitals and treatment centers in New York City, including the Elizabeth Seton Pediatric Center, Sloan-Kettering Cancer Center, and Beth Israel Hospital."  (Laura Schiller  Jan/Feb 2008)
Administration 
Incoming artistic directors Ryan McAdams (orchestra) and Vince Lee (Symphony Singers) were welcomed to the New York Youth Symphony. Leslie and Johanna Garfield were announced as Honorary Chairs of the Next Generation Fund, the campaign to enlarge the NYYS' endowment and reserve funds. The Board of Trustees honors Barry Goldberg on his 25th season as Executive Director
The Surdna Foundation makes its third three-year grant to support the core programs of the NYYS.  This one is for $240,000 and must be matched by new gifts and/or increases from current funders.
Debut Concert

December 9, 2007
Soloist William Harvey

Season 45 Winter Concert

March 16, 2008
Soloist Kate Lindsey

Spring Concert

May 25, 2008
Soloist James Deitz

Trios, Quartets & Quintets

In Walked Love

December 28, 2007
Soloist Suzanne Morrison, vocalist

My Boy Bill: A Tribute to Bill Holman

March 28, 2008
Soloist Scott Wendholt Trumpet

Legendary Lovano

May 22, 2008
Soloist Joe Lovano, tenor saxophone