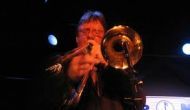 Season 46 2008-2009
The season opening in Carnegie Hall on 11-30-08 included works by Beethoven, Mozart, and Mussorgsky, and a commissioned work, "Strife," by First Music composer Ryan Gallagher, all conducted by Ryan McAdams.  Haochen Zhang was the début soloist in the Mozart Piano Concerto No. 20 and in the new work.
The New Yorker:  "The city's exceptional youth orchestra and its gifted young conductor, Ryan McAdams, offer a concert in which one of the winners of their young-composer commission competition (Ryan Gallagher) shares the limelight with Beethoven, Mozart (the Piano Concerto No. 20 in D Minor, with Haochen Zhang), and Mussorgsky ("Pictures at an Exhibition")."  (listing  12-1-08)
The New York Times:  "Because the New York Youth Symphony is a student ensemble that draws on musicians ranging in age from 12 to 22, it can be easy to forget, from season to season, just how good it is.  But its Carnegie Hall concerts have often been startling.  Its programs are built around repertory cornerstones, which these musicians appear not to find daunting, and each concert includes the premiere of a commissioned work as well.  The performance level is almost always what you would expect from a full-time, professional adult orchestra, and this group outshines some of the adult ensembles that parade across New York stages night after night.
At Carnegie Hall on Sunday afternoon, the orchestra's music director, Ryan McAdams, put his young players in what could have been an unforgiving spotlight.  Beethoven's "Leonore" Overture No. 3, for example, in which currents of dark, menacing power and heroic fortitude are intertwined, makes hefty demands on an ensemble's energy and unity.  Listeners could quibble about Mr. McAdams's decision to have the trumpet calls played onstage rather than off, but this was an electrifying reading, and the vigorous, magnificently polished string playing in the final section of the score made any such reservations seem beside the point.
 . . . So did Haochen Zhang, an 18-year-old pianist, who contributed a deft, assertive account of the work's concertolike solo line.  He also gave a graceful, energized performance of Mozart's Concerto No. 20 in D minor and played an elaborate set of variations on a Chinese folk theme as an encore.
After the intermission, Mr. McAdams conducted a sharply articulated, thoughtfully shaped performance of Mussorgsky's Pictures at an Exhibition.  It was the kind of reading that made a listener prize the details of Ravel's orchestration more than ever, both as a textbook demonstration of orchestral color and for giving this already vivid piano score a measure of depth and shading that Mussorgsky could never have achieved.  Mr. McAdams's contribution here was an emphasis on the music's extremes of clarity and mystery, delicacy and grandeur."  (Allan Kozinn  12-2-08)
The 14th presentation of The Theodore L. Kesselman Award for Arts Education is made to composer Francis Thorne, founder of American Composers Orchestra.  Elliott Forrest hosted the onstage ceremony which included presenter Philip Glass.  
The New York Times:  "Philip Glass, not a frequent speaker at events of this kind, presented the Theodore L. Kesselman Award for Arts Education to the composer Francis Thorne, but first spoke about the inspiring mission of orchestras like the youth symphony.  Mr. Thorne was more circumspect.  Taking the award, he said only, 'As Antony said to Cleopatra, I have not come to talk'."  (Allan Kozinn  12-2-08)  A post-performance reception is held at the New York Athletic Club.
Radio station WQXR-FM (96.3) broadcasts on 3-18-09 performances by the orchestra of works performed in the previous November, including Rachmaninoff's Symphony No. 2 (Allegro vivace) and Mozart's 20th Piano Concerto, with Haochen Zhang, the Durst Début Artist of the November concert.  The program, "The McGraw-Hill Companies' Young Artists Showcase," is hosted by Robert Sherman.
Ryan McAdams conducts the orchestra in its winter concert in Carnegie Hall 3-22-09 in a program of Chavez, Brahms, and a new work, "Senior," by First Music-commissioned composer and former Making Score student Timothy Andres.  The ACME Quartet in its Carnegie Hall début performs the Andres première.
Time Out New York:  "Close your eyes during a performance by the New York Youth Symphony, and you might have trouble believing that you're listening to a group of fresh-faced youngsters—except, perhaps, for the fact that each concert features a newly composed piece, something practically no other ensemble in town can boast."  (listing  3-15-09)
The New York Times:  "At 27, the conductor Ryan McAdams is not that much older than the players in the New York Youth Symphony, who are mostly of high school and college age.  And youthful freshness was the hallmark of the accomplished performance of Brahms's First Symphony that Mr. McAdams led with this impressive ensemble on Sunday afternoon at Carnegie Hall.
Beyond the technical confidence, it was the unjaded enthusiasm of the playing that made the Brahms so rewarding.  It is impossible for the performance of a staple to slip into routine when the orchestra is made up of gifted young musicians, many playing the piece for the first time.
 . . . After this rhapsodic performance, to show off what they could do in hyper-charged mode, the ACME Quartet dashed off an encore, the raw, spiraling first movement of Jefferson Friedman's String Quartet No. 3 from 2005.
The concert began with a breathless account of Carlos Chávez's one-movement "Sinfonía India" (1936), which integrates elements of Mexican-Indian music into a perky and complex contemporary score.  Mr. McAdams, the orchestra's music director since 2007, is doing essential work."  (Anthony Tommasini, Chief Music Critic  3-24-09)
The orchestra under Ryan McAdams closed the season in Carnegie Hall on 5-31-09 with performances of Debussy, Mahler (Symphony No. 4), and First Music-commissioned composer Trevor Gurecki's "Recurrent Dream," with Durst Début Artist, Jennifer Zetlan, soprano.
Haochen Zhang, the Durst Début Artist of the prior season's opening, shared the Gold Medal of "The van Cliburn International Piano Competition" in Fort Worth, Texas.
Jazz Band Classic opened its seventh season with performances in Symphony Space, 12-19-08 and 12-20-08.  The 17 members of the band under the direction of Chris Winans perform arrangements of jazz interpreters, including Duke Ellington, Bob Brookmeyer, Mike Holober, and Maria Schneider.  Trumpeter Marvin Stamm is the guest soloist.
Jazz Band Classic performs 3-15-09 at St. Peter's Church in the Citicorp Center to commemorate jazz master Billy Strayhorn.  Chris Winans directs.
The band's winter performances in Symphony Space on 3-20-09 and 3-21-09 featured arrangements of trombonists of the big band era and including work of Bob Brookmeyer, John Coltrane, and George Gershwin.  Guest soloist is trombonist Conrad Herwig; Chris Winans directs.
Jazz Band Classic closed its seventh season in the Allen Room of Jazz at Lincoln Center on 5-28-09 with a performance of "Unsung Heroes, Music of Legendary Arrangers."  Dick Oatts is the alto saxophone guest, and the band is directed by Chris Winans, who also presented the "Director's Award for Commitment and Achievement."
The second annual session is held at City Center on 3-14-09 of "Orchestrations," a series of readings of the works of five Program students by 13 musicians of American Composers Orchestra sitting alongside 15 musicians of the New York Youth Symphony orchestra with Ryan McAdams conducting.  Following the readings are discussions among all Program members, Program director Anna Clyne, and ACO players, artistic director Robert Beaser, and composer-in-residence Derek Bermel.
Making Score holds its season-end final performance in Symphony Space on 5-6-09 with new works by 18 Program participants.  Anna Clyne presents the "Derek Bermel Director's Award for Commitment and Achievement," the first one named in honor of Making Score's founding director.
Musicians of the Chamber Music Program had their season-end performances in Symphony Space on 4-22-09 and 4-29-09 and the finale on 5-29-09 in Weill Recital Hall featuring Daniel Phillips, violist of the Orion String Quartet, as Program mentor with a piano trio in Schumann's Piano Quartet in E-Flat Major.  Director Lisa Tipton presented the "Director's Award for Commitment and Achievement" to a Program ensemble.
Administration
Trustee John Rowe, Jr., president of The Joseph F. McCrindle Foundation, announces a bequest of $1,285,148 by late Trustee Joseph McCrindle to the New York Youth Symphony.
Debut Concert

November 30, 2008
Soloist Haochen Zhang

Season 46 Winter Concert

March 22, 2009
Soloist ACME Quartet

Spring Concert

May 31, 2009
Soloist Jennifer Zetlan

Royal Procession

December 19, 2008
Soloist Marvin Stamm

Osteology

March 20, 2009
Soloist Conrad Herwig

Unsung Heroes

May 28, 2009
Soloist Dick Oatts