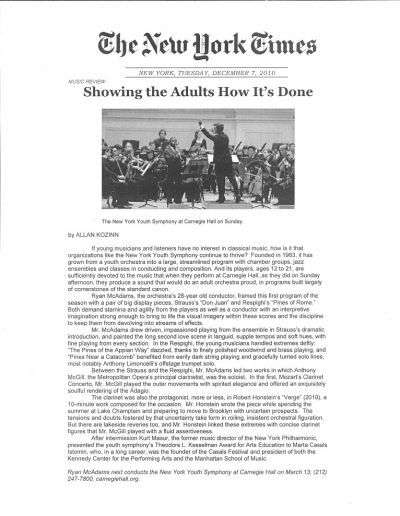 Season 48 2010-2011
The orchestra was the first guest orchestra to perform on opening day of the new $37 million DiMenna Center for Classical Music on West 37th Street in Manhattan. On March 8, Ryan McAdams conduced a 60-member ensemble in Prokofiev's "Overture on Hebrew Themes" in the largest rehearsal hall named after Mary Flagler Cary.  Four ensembles from the Chamber Music Program led by Lisa Tipton showcase three rehearsal studios within the center.
The orchestra was featured on WQXR-FM (105.9FM) as program producer Robert Sherman hosts "The McGraw-Hill Companies' Young Artists Showcase" on 2-16-11 and 3-9-11.  Broadcast are the orchestra's performances of Verdi's overture to "La forza del destino," Respighi's "Pines of Rome," and Strauss's "Don Juan."  Ryan McAdams conducts.
 The orchestra opened the season in Carnegie Hall on 12-5-10 with performances of Strauss' "Don Juan," Mozart's Clarinet Concerto with Met co-principal Anthony McGill, and the première of First Music-composer Robert Honstein's "Verge" for clarinet and orchestra, also with Mr. McGill.  Respighi's "Pines of Rome" concludes the program under the direction of Ryan McAdams.
The New York Times:  The headline reads, "Showing the Adults How It's Done," continuing, "If young musicians and listeners have no interest in classical music, how is it that organizations like the New York Youth Symphony continue to thrive?  Founded in 1963, it has grown from a youth orchestra into a large, streamlined program with chamber groups, jazz ensembles and classes in conducting and composition. And its players, ages 12 to 21, are sufficiently devoted to the music that when they perform at Carnegie Hall, as they did on Sunday afternoon, they produce a sound that would do an adult orchestra proud, in programs built largely of cornerstones of the standard canon.  . . . Ryan McAdams, the orchestra's 28-year old conductor, framed this first program of the season with a pair of big display pieces, Strauss's "Don Juan" and Respighi's "Pines of Rome."  Both demand stamina and agility from the players as well as a conductor with an interpretive imagination strong enough to bring to life the visual imagery within these scores and the discipline to keep them from devolving into streams of effects.  . . . Mr. McAdams drew driven, impassioned playing from the ensemble in Strauss's dramatic introduction, and painted the long second love scene in languid, supple tempos and soft hues, with fine playing from every section.  In the Respighi, the young musicians handled extremes deftly: "The Pines of the Appian Way" dazzled, thanks to finely polished woodwind and brass playing, and "Pines Near a Catacomb" benefited from eerily dark string playing and gracefully turned solo lines, most notably Anthony Limoncelli's offstage trumpet solo."  (Allan Kozinn  12-7-10)
The 16th presentation of The Theodore L. Kesselman Award for Arts Education is made by New York Philharmonic music director emeritus Kurt Masur to arts leader Marta Casals Istomin.  Elliott Forrest emcees.  The 28th annual benefit with a reception held at the New York Athletic Club reports a record-breaking $172,800 in gross receipts.
The annual McCrindle Concert (in memory of late Trustee Joseph F. McCrindle) takes place in Carnegie Hall on 3-13-11 with Ryan McAdams conducting Mussorgsky's original version of "Night on Bald Mountain" (its New York première was given by the New York Youth Symphony orchestra in 1983.  Also on the program are Prokofiev's "Overture on Hebrew Themes" and Shostakovich's Fifth Symphony.  The program is highlighted by Durst Début artist Hahn-Bin, a Korean-born violinist, performing the première of Christopher Cerrone's "Still Life" for violin and orchestra.
The orchestra concludes its season in Carnegie Hall on 5-22-11 with performances of Wagner's "Siegfried's Rhine Journey" (followed by an unannounced encore of "The Ride of the Valkyries"), First Music composer Eric Guinivan's performance of his own work, "Meditation and Awakening," and Tchaikovsky's Symphony No. 6, "Pathétique."  Conductor Ryan McAdams introduces the Tchaikovsky with a message to the audience welcoming applause, "if you are so moved," after the rousing third movement.  He makes further remarks about outgoing Executive Director Barry Goldberg, saying that "he is the reason you are here today" and that "the orchestra is here today" and that "I am here today."  He introduces to the stage Board president A. Slade Mills, Jr., who makes additional complimentary remarks about Mr. Goldberg.  Then Mr. McAdams concludes by saying that he and the orchestra dedicate this performance of the Tchaikovsky to Mr. Goldberg.
The New York Times:  About the Tchaikovsky, The Times reported, "The audience applauded after each movement, with a sustained ovation at the end.  This was the final Carnegie Hall concert of the orchestra's 48th season.  And under Mr. McAdams, an Alan Gilbert protégé who won an award for emerging conductors from the Solti Foundation last year, the Youth Symphony continues to do essential work.  The student musicians, ages 12 to 22, played with rich sound (the sighing second theme in the first movement had lovely warmth and supple shape), confidence and character."  (Tommasini  5-27-11)
Opening performances of its ninth season take place in Thalia Hall of Symphony Space with performances on 12-10-10 and 12-11-10 featuring a program theme called "The Joy of the Blues."  New band director Matt Holman made his début with the band performing works of the 1930s and 1940s.  Saxophonist Steve Wilson is the guest soloist.
The band under Matt Holman's direction performed a program in tribute to the "Thad Jones Legacy" in Symphony Space's Thalia Hall on 3-25-11 and 3-26-11.  The featured soloist is trumpeter Alex Sipiagin in a program that includes Jones's works such as "It Only Happens Every Time," "All My Yesterdays," and "A Child Is Born," among many others.
Jazz Band Classic's closed its ninth season in the Allen Room of Jazz at Lincoln Center on 5-24-11 with saxophonist Paquito D'Rivera, who joined the 17-member band in the program's second half to deliver a performance of the Latin-flavored jazz for which he is known.  After delivering remarks in thanking Barry Goldberg for 28 years of service and as the creator of Jazz Band Classic, director Matt Holman concludes his début season as the band's third director. The First Music composition "Intrigue" was composed by Andrew Linn, the eigth composer to be commissioned for the Jazz program.
The Program's annual performance and champagne-dessert reception at the National Arts Club took place on April 7, 2011 followed by two performances at Symphony Space on April 15, 2011 and April 26, 2011.
The 28th season-end performance featured the Program's most accomplished ensembles on the stage of Weill Recital Hall.  In addition to the announcement of honors to The Caedmon Quartet (Justin DeFilippis and Adrianna Sirinian, violins; Lydia van der Swaagh, viola; and Jan Matthias van der Swaagh, cello) for the annual Director's Award for Commitment and Achievement, the second annual presentation of the Robert Mann Award for Chamber Music is presented by Arnold Steinhardt, formerly of the Guarneri Quartet, to pianist Claude Frank for his significant contributions to performance and teaching.  Mr. Frank was accompanied by his daughter, violinist Pamela Frank, an alumna of the orchestra and a featured soloist several times with the orchestra in Carnegie Hall.  At the evening's conclusion, CMP director Lisa Tipton pulls Barry Goldberg onstage to present him with dedicatory remarks about his support of the Program for 28 years from her and past Program directors Alan R. Kay (the Program's first director) and Lisa Kozenko (Lisa Tipton's immediate predecessor).  Then Ms. Tipton presents Mr. Goldberg with a framed photograph signed by each of the 90+ Program musicians. The First Music composition "Mechanisms" was written by Jude Vaclavik for piano trio.
Orchestrations+, a reading project in collaboration with American Composers Orchestra, is held 3-19-11 at Riverside Church.  The works of five student composers were given readings by an ensemble comprised of 12 ACO musicians and 15 NYYS student musicians under the direction of Ryan McAdams.  A followup session is held with composer Paul Chihara and some of the ACO musicians to show the student composers how to improve their scoring.
Composition Date: 2011, the program's annual season-end concert featured the new works of 14 student composers at Symphony Space on 5-4-11.  Director Kyle Blaha speaks briefly onstage with each composer prior to each performance.
The BMI Foundation at its annual awards dinner honors NYYS executive director Barry Goldberg with the "Outstanding Musical Citizen Award".
Administration
The Publishers Association Board presented the New York Youth Symphony with the "Outstanding Service Award" and a gift of $25,000 on 4-21-11.
Partnerships were created with Third Street Music School Settlement (orchestra and jazz band musicians serving as mentors and demonstrators for the School's new percussion training program); Midori and Friends (Chamber Music Program musicians serving as demonstrators and teachers in support of Midori and Friends' efforts in the public schools); and the Lucy Moses School of the Kaufman Cultural Center (an honors chamber music project called ChamberTeam involving initially the exchange of two ensembles, one from each organization, with coaching, masterclasses, and performances).
The BMI Foundation honored Executive Director Barry Goldberg. He announces on 2-10-11 his retirement on 8-31-11 after 28 years in that position.  A search committee is announced to identify his successor.
Shauna Quill was named incoming Executive Director at a Board meeting on 7-20-11.  In a press release, Board chair Leslie J. Garfield says that Ms. Quill brings "an impressive record of accomplishment at the University of Chicago as well as the Aspen Music Festival and School, Sejong Soloists, and the Great Mountains Music Festival & School in South Korea."  Referring to her past experience as a member of the Pittsburgh Youth Symphony as well as with the NYYS Chamber Music Program, Ms. Quill says that "working with students is the most important and satisfying work I do because I know it truly makes a difference."  She begins 9-15-11.
Debut Concert

December 5, 2010
Soloist Anthony McGill

Season 48 Winter Concert

March 13, 2011
Soloist Hahn-Bin

Spring Concert

May 22, 2011
Soloist Eric Guinivan

Trio, Quartets & Quintets

April 15, 2011
April 16, 2011

The Joy of Blues

December 10, 2010
Soloist Steve Wilson, saxophones

Thad Jones Legacy

March 25, 2011
Soloist Alex Sipiagin

Latin From Manhattan

Soloist Paquito D'Rivera, saxophone