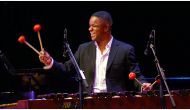 Season 51 2013-2014
Season Opening Concert
The 51st Season opened with works by Wagner and Richard Strauss. Pianist Michael Brown makes his Carnegie Hall debut with a First Music commission and Mozart's Piano Concerto in C major, K. 467. 
The McCrindle Concert
The McCrindle Concert included the Carnegie Hall premiere of Messiaen's Concert à quatre, performed by the debut ensemble Pleasure is the Law.
Spring Concert
The Orchestra closed its season celebrating American Composers including Bernstein, Barber and Copland. Violinist Benjamin Beilman makes his Carnegie debut, performing Samuel Barber's Violin Concerto.
Trombonist John Fedchock joins the band for this season.
Woody Herman Tribute
The Jazz Band kicked off its season with a centennial tribute to the legendary leader of the "Herd," tunes including Woodchopper's Ball, Early Autumn and Four Brothers.
Jazz from the Big Screen
A celebration of cinema-featured Big Band music, including selections from such films as Black Orpheus, Paris Blues andCherokee.
Feelin' the Vibes
Celebrating the melodic instrument of the jazz percussion family, special guest Stefon Harris joints in a tribute to such legends as Lionel Hampton, Cal Tjader, Terry Gibbs and Milt Jackson. Vibraphonist Stefon Harris joins on this performance.
Chamber Music Program
Select ensembles from the Chamber Music program perform a range of works from the great masterpieces to modern compositions, including the world premiere of a First Music commission by Brian Petuch. Guest Mentor Edward Arron, cello, performs with a group.
Debut Concert

November 24, 2013
Soloist Michael Brown

The McCrindle Concert

March 2, 2014
Soloist Pleasure is the Law

Spring Concert

May 25, 2014
Soloist Benjamin Beilman

Festival Evening

April 23, 2014
April 24, 2014

Woody Herman Tribute

December 9, 2013
Soloist John Fedchock

Jazz From the Big Screen

March 10, 2014
Soloist Terell Stafford

Feelin' the Vibes

May 19, 2014
Soloist Stefon Harris