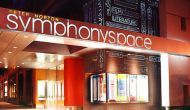 Season 52 2014-2015
WQXR Article and Interview with Elliott Forrest: New York Philharmonic Names Joshua Gersen Assistant Conductor. Read and listen to the interview: http://www.wqxr.org/#!/story/new-york-philharmonic-names-joshua-gersen-a....
The 52nd season opened with "youthful fire" as the orchestra performs Stravinsky's Firebird Suite. Pianist Conrad Tao performs Rachmaninoff's electric Rhapsody on a Theme by Paganini. 
Named one of the "Future Fifteen" by Latina Magazine, Elena Urioste joins the orchestra for Beethoven's Violin Concerto. The violin is featured once again in Rimsky-Korsakov's Scheherazade.
The 52nd season finale features Beethoven's Symphony No. 9, in collaboration with the New York Choral Society.
The Jazz Band kicks off its season showcasing both classic & contemporary arrangements of big band mainstays including "King Porter Stomp," "Begin the Beguine" and "On the Sunny Side of Street".
NYYS Jazz celebrated the centennial of Billy's Strayhorn's birth with a performance of his arrangements, including Lush Life, Such Sweet Thunder and Chelsea Bridge.
Celestial Swing!
The sun…the moon…and the stars: these heavenly bodies have been the inspiration for countless American popular songs. NYYS Jazz featured the enduring music of Artie Shaw, Count Basie and Glenn Miller.
Chamber Music Program
An evening of exquisite chamber music from the great masterpieces to modern compositions, including a First Music premiere by Edward Hamel. Guest Mentor Paul Neubauer, viola, performed with one of the chamber groups.
Debut Concert

November 23, 2014
Soloist Conrad Tao

The McCrindle Concert

March 8, 2015
Soloist Elena Urioste

Spring Concert

May 24, 2015
Soloist The New York Choral Society - David Hayes, music director

An Evening Among Friends

May 4, 2015
Soloist Paul Neubauer

Art of the Arrangement

December 8, 2014
Soloist Lew Tabackin

For Strayhorn

March 16, 2015
Soloist Luis Bonilla

Celestial Swing!

May 18, 2015
Soloist Jane Monheit