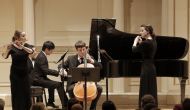 Season 53 2015-2016
The 53rd season opened with classic folklore, including Till Eulenspiegel's Merry Pranks and Ravel's enchanting Mother Goose suite. Cellist Gabriel Cabezas performs the world premiere of Lost Coast, a First Music commission.
Pianist Steven Lin joined the orchestra for Tchaikovsky's Piano Concert No. 1.
The 53rd season ended on a jubilant note with Mahler's Symphony No. 2, "Resurrection," in collaboration with the choral ensemble MasterVoices and vocalists Sarah Shafer and Jazimina MacNeil.
The Jazz Band kicked off its season with Big Band arrangements of classical works by Brahms, Verdi, Rimsky-Korsakov and others.
NYYS honors the co-founder of bebop, trumpeter Dizzy Gillespie, and his longtime association with big bands. Selections include Things to Come, Con Alma and Oop Bop, and Sh'Bam.
Matt Holman's final concert as director of the Jazz Band featured springtime selections from Duke Ellington, Les Brown, Count Basie and others.
The CMP performed exquisite chamber music from the great masterpieces to modern compositions, including a First Music premiere by Michael Schachter.
Debut Concert

November 22, 2015
Soloist Gabriel Cabezas

The McCrindle Concert

March 6, 2016
Soloist Steven Lin

Classically Inspired

December 8, 2015
Soloist Robin Eubanks

Dedicated to Doz

March 14, 2016
Soloist Jon Faddis

Swing into Spring

May 16, 2016
Soloist New York Voices