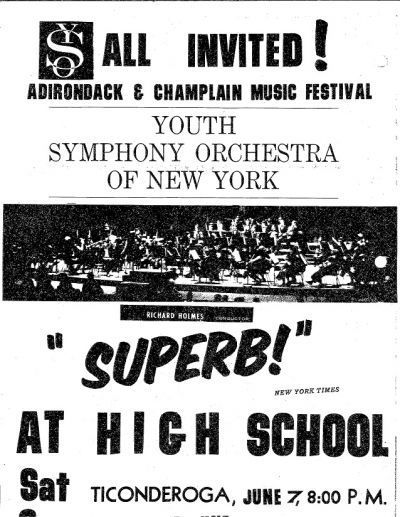 Season 6 1968-1969
Richard Holmes, a conducting student of Jean Morel at Juilliard, became music director, who opened the season.
New York Times:  "They had the life that is expected of young people.  They also had a technical expertise that was almost frightening from instrumentalists in the 12-to-21 age bracket." (Raymond Ericson 12/16/68)
Performance featured the New York première of "Scenes from The Snow Queen Ballet," by William Mayer.
Justin Blasdale won William Kapell Competition Award, given by Bernard Kapell, the late pianist's brother and an orchestra Trustee.  Mr. Blasdale performed  Rachmaninoff's Piano Concerto No. 2 with the orchestra. The concert was broadcasted by WNYC-FM.
New York Times:  "Blasdale is a promising talent. . . but the orchestra stole the show . . . .  When they made it to the last fortissimo statement . . . it was enough to make a hardened listener get a lump in his throat."  (Allen Hughes)
Administration
Herman Stone is Chairman of the Board of Trustees.  Leslie J. Garfield is President.
Mrs. Sarah M. Greenberg is Executive Secretary.
Opening Concert

December 14, 1968
Soloist Arturo Delmoni