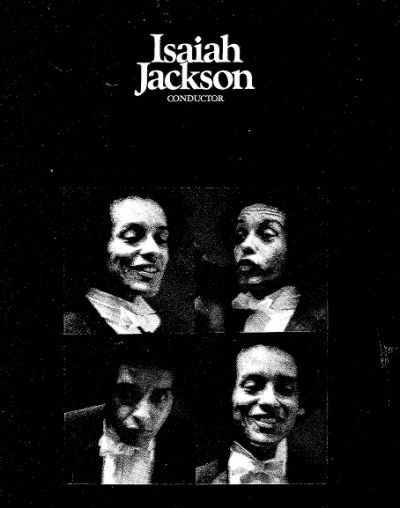 Season 7 1969-1970
24-year old Isaiah Jackson (known as "Jack"), a doctoral candidate at Juilliard, became new music director, making his Carnegie Hall début.  Barry Jekowsky, the orchestra's percussionist, was the music director of the California Symphony (as of October 2002).
New York Times:  "The imaginative program and lively performances made their mark on the young audience, which listened attentively and applauded enthusiastically." (Allen Hughes 12/15/69)
Uri Mayer, 23, the orchestra's Assistant Conductor, makes his début as viola soloist in Bartók's Viola Concerto.
New York Times:  "Mr. Mayer made this normally reticent instrument come to life in glowing, luscious tones.  It was an outstanding and fully matured performance that showed a remarkable degree of musical insight into a thorny and at times enigmatic work." (Peter G. Davis 2/16/70)
Performance of 4/19/70 was broadcast live on WNYC-FM.
Administration
Ben Golden is Chairman and Treasurer of the Board of Trustees.
Isaiah Jackson featured in Vogue, (8/1/70)
Debut Concert

December 13, 1969
Soloist Claudia Polley