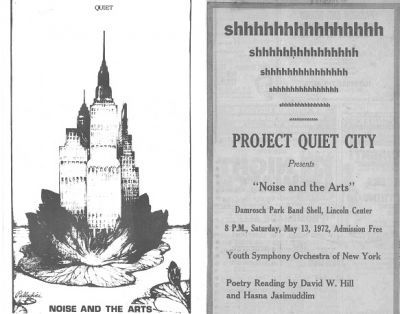 Season 9 1971-1972
Performance featured music of Falla and Dvořák.
New York Times:  Jackson "is doing a tremendously effective job."  Falla's Three-Cornered Hat "got a superbly kinetic reading, with all the brio and rhythmic life that this ballet score demands.  Mr. Jackson knows how to excite his youthful orchestra and make it play its very best, and sometimes better than that."  " . . . the Dvorak had shape, lyrical flow and splashes of real sonic grandeur.  Mr. Jackson is turning into quite a conductor." (Donal Henahan 2/24/72)
Soprano Eleanor Steber, for whom the work was written, was a judge in a competition for a soprano soloist in Samuel Barber's Knoxville: Summer of 1915.  Soprano Joann Yockey was chosen for the performance given in Carnegie Hall.
New York Times:  The orchestra "gave another concert of remarkably high quality under the splendid direction of Isaiah Jackson . . . .  As usual, the [Youth Symphony Orchestra] played with extraordinary poise and musicality." (Allen Hughes  4/24/72)
The Orchestra performed a free concert at the Damrosch Park Band Shell, presented by Project Quiet City.
All season performances were broadcast live on WNYC-FM.
Debut Concert

December 11, 1971
Soloist Yasuo Watanabe

Season 9 Winter Concert

February 13, 1972
Soloist Rose Taylor

Spring Concert

April 22, 1972
Soloist Joann Yockey