New York Youth Symphony Honored Alan Fletcher and Dani Bedoni at its 55th Annual Benefit Gala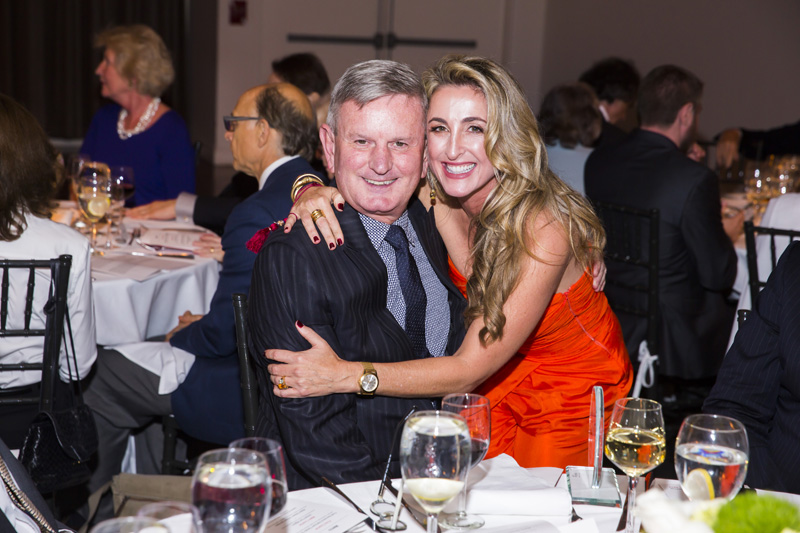 The New York Youth Symphony honored Alan Fletcher with the Theodore L. Kesselman Award for Arts Education and Dani Bedoni with the Johanna and Leslie Garfield Award for Arts Philanthropy at its 55th Annual Benefit on Tuesday, October 24th at 6:30PM at the Tribeca Rooftop.
The Benefit is the organization's largest and most important fundraising event of the year. Funds raised support the NYYS's innovative tuition-free educational programs,  which educate and inspire young musicians through exceptional training and performance opportunities. More than 6,000 students have participated in the orchestra, jazz, chamber music, composition, and conducting programs since the founding of the NYYS in 1963. 
About the Awards:
The Theodore L. Kesselman Award for Arts Education was established in 1995 to recognize significant dedication by an individual or institution making outstanding contributions in nurturing young people in the arts. The award is named in memory of Theodore L. Kesselman, who served as the NYYS Board President from 1985-1994.
The Johanna and Leslie Garfield Award for Arts Philanthropy was established in 2015 to recognize individuals who have provided leading support to arts organizations in New York and beyond. The award is named for the Garfields, who hail from the NYYS founding family and both of whom continue to serve on its board, Leslie as its Chair.
About the Honorees:
Alan Fletcher, one of this country's most accomplished music administrators and respected composers, was born in 1956 in Riverside, New Jersey, and earned his baccalaureate at Princeton University (1978) and his master's degree (1979) and doctorate (1983) at Juilliard. He studied composition with Roger Sessions, Milton Babbitt, Edward T. Cone, and Paul Lansky and piano with Jacob Lateiner and Robert Helps. In 1985, Mr. Fletcher was appointed to the faculty of the New England Conservatory of Music, teaching composition and theory and serving successively during his 16-year tenure at the school as Dean, Provost, and Senior Vice President. From 2001 to 2006, he was Professor of Music and Head of the School of Music at Carnegie Mellon University in Pittsburgh, after which he assumed his current position as president and CEO of the Aspen Music Festival and School. Mr. Fletcher has lectured nationally and internationally on music and music administration and served on many boards, panels, juries, seminars and committees, including the board of the Aspen Institute and the Pittsburgh Opera. He has also contributed articles and op-ed pieces to the Huffington Post, The Guardian, Symphony magazine, Gramophone magazine, the Wall Street Journal, Sonus: Journal of Global Music, Pittsburgh Post-Gazette, Baltimore Sun, the Journal of Music Theory Pedagogy, Chronicle of Higher Education, and many others. Fletcher has won numerous composing awards and received commissions from the National Dance Institute, the Pittsburgh Symphony (2008, 2011, and 2015), Los Angeles Philharmonic, Atlanta Symphony, Zurich Chamber Orchestra, Nashua Symphony, National Gallery of Art, Boston Celebrity Series, Duquesne University, New York Camerata, and other noted ensembles, organizations, and soloists. He chaired the 1997 Salzburg Seminar Music for a New Millenium: The Classical Genre in Contemporary Society.
Dani Bedoni is a trained classical musician and business administrator who has advocated passionately for arts programs over 30 years.  She has worked with the Venezuelan El Sistema model music program internationally since 1986. Ms. Bedoni serves on the Boards of Harmony Program, El Sistema USA, New England Conservatory, and KidzNotes.  She is also on the Education Committee of the New York Philharmonic, and a former member of the Advisory Board of Bravo Music Festival and ProChamber Music in Caracas. Ms. Bedoni earned degrees from the Universidad Metropolitana and Conservatory Simón Bolívar both in Caracas, Venezuela, and worked in financial roles at Iskia S.A., Invercapital in Caracas, and Credit Lyonnais Bank in Paris. Ms. Bedoni and her husband Gonzalo Rodriguez live in New York City with their three children, Gonzalo, Lorenzo, and Daniela.