New York Youth Symphony to Honor Melissa Eisenstat and Joseph Conyers at its 57th Annual Benefit Gala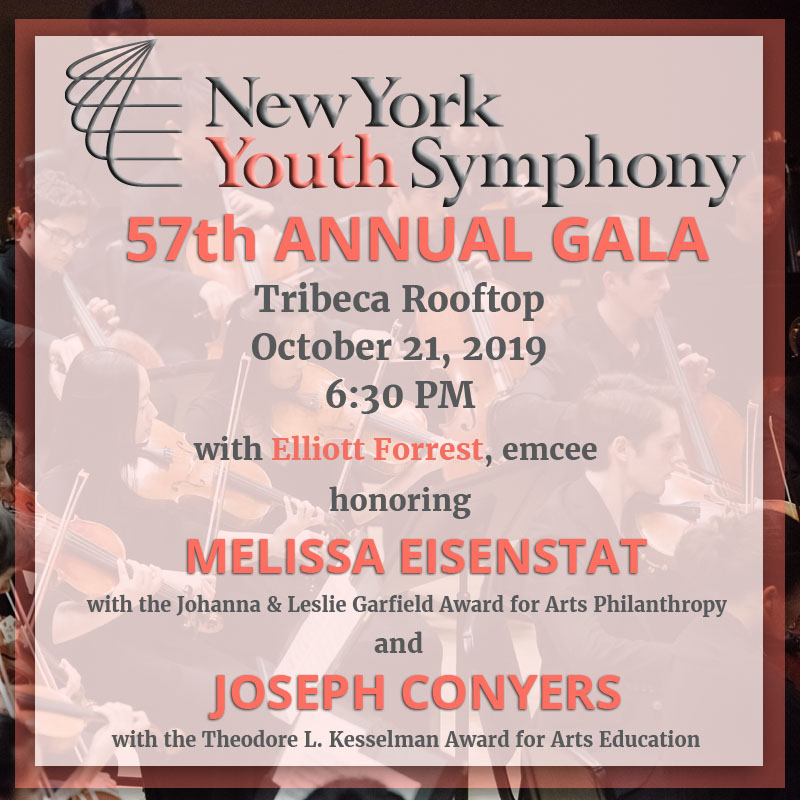 The New York Youth Symphony will honor Melissa Eisenstat with the Johanna and Leslie Garfield Award for Arts Philanthropy and Joseph Conyers with the Theodore L. Kesselman Award for Arts Education at its 57th Annual Benefit on Monday, October 21st at 6:30PM at Tribeca Rooftop.
The Benefit is the organization's largest and most important fundraising event of the year. Funds raised support the NYYS's innovative tuition-free educational programs,  which educate and inspire young musicians through exceptional training and performance opportunities. More than 6,000 students have participated in the orchestra, jazz, chamber music, composition, and conducting programs since the founding of the NYYS in 1963. 
About the Honorees:
Melissa Eisenstat's musical training, corporate experience, and not-for-profit work have made her a passionate advocate for the role of the arts in society. From 2012-2019 she served as Board President of New York Youth Symphony, of which she is an alumna.  Under her leadership, NYYS completed a strategic plan which strengthened its financial stability, improved governance, and expanded community outreach.  She continues as a Trustee and chairs the Development Committee.  She also served as Trustee of The Caramoor Center for the Arts from 2016-2019 and was its Finance Chair in 2018. Earlier this year, Ms. Eisenstat helped found a civic orchestra called New Conductors Orchestra, where she plays in the ensemble and serves as its Chairman. Ms. Eisenstat's corporate experience includes 20 years in technology and finance.  She spent seven years in Silicon Valley at Apple Computer and at a start-up software company.  She then moved to Wall Street for eleven years, which she spent primarily at Oppenheimer & Co., leading software equity research. Ms. Eisenstat began her musical journey on piano at age 8 and is a lifelong cellist, playing chamber and orchestral music regularly.  Inspired by the NYYS jazz band, she took up jazz piano several years ago. Ms. Eisenstat earned a BA from the University of Pennsylvania, and a dual degree MBA/MA from the Wharton School's Lauder Institute.
"As an NYYS alum I have seen and experienced first-hand the impact of these programs, and am truly honored to be recognized. Playing in the orchestra as a student was one of the most valuable experiences of my life, and I have been proud to serve on the board, and to continue supporting the NYYS mission."
Joseph H. Conyers was appointed assistant principal bassist of the Philadelphia Orchestra in 2010. He joined the Philadelphia Orchestra after tenures with the Atlanta Symphony Orchestra, Grand Rapids Symphony (MI) where he served as principal bass, and Santa Fe Opera (NM). Mr. Conyers is committed to education and community engagement through music. His "aha moment" was about his inspiration founding the nonprofit Project 440, which uses music as tool to engage, educate, and inspire young musicians – providing them with career and life skills to become tomorrow's civic-minded, entrepreneurial leaders. In 2015, Mr. Conyers was appointed music director of Philadelphia's famed All City Orchestra, an ensemble showcasing the top orchestral talent of students in the school district of Philadelphia. Project 440's programs are accessible by all high school music students in the School District of Philadelphia free of charge. Mr. Conyers currently serves on the National Advisory Board of the Atlanta Music Project in Atlanta, GA and has served on both the board of directors for ASTA (American String Teachers Association) and the Board of Overseers for the Curtis Institute of Music. He is a 2019 Sphinx Organization Medal of Excellence recipient, an honor accompanied by a substantial career grant and ceremonies at the Kennedy Center and the Supreme Court of the United States.
"I'm honored to receive the Theodore L. Kesselman award from the New York Youth Symphony. Music education is at the core of much of my work not only because I feel every young person should have access to music, but because I strongly feel that music can be used as a tool with which we can empower the youth from some of our nation's most marginalized communities. I'm humbled by this recognition and will always be inspired by the NYYS's formidable legacy."
About the Awards:
The Johanna and Leslie Garfield Award for Arts Philanthropy was established in 2015 to recognize individuals who have provided leading support to arts organizations in New York and beyond. The award is named for the Garfields, who hail from the NYYS founding family and both of whom continue to serve on its board, Leslie as its Chair.
The Theodore L. Kesselman Award for Arts Education was established in 1995 to recognize significant dedication by an individual or institution making outstanding contributions in nurturing young people in the arts. The award is named in memory of Theodore L. Kesselman, who served as the NYYS Board President from 1985-1994.