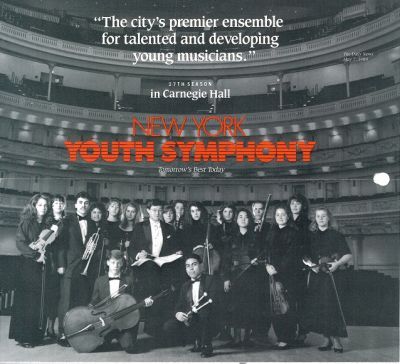 Season 27 1989-1990
Wong featured Stravinsky's The Rite of Spring in his first concert of the season.
New York Times:  "Despite [the work's] enormous difficulties, the orchestra did more than negotiate it, they played it very well indeed."  (11/29/89)
Daily News:  "Preparation was superb . . .  Solo instrumental turns were impeccable in this horribly difficult music, as they were all afternoon."  (Bert Wechsler  11/28/89)
The orchestra held a career symposium at Hunter College on 1-14-90 on the subject of "Musician Illness and Injury," featuring Dr. Richard N. Norris, director of Performing Arts Medicine at Braintree Hospital in Massachusetts.  Following his session, Dr. Norris participated in a panel including Dr. William Frosch, director of the Paine Whitney Psychiatric Institute of New York Hospital-Cornell Medical Center; Joan E. Edelstein, panel moderator and Senior Research Scientist of the Post-Graduate Medical School of New York University; and Judith Youett, an Alexander Technique Therapist.
22-year-old violinist Pamela Frank, an orchestra member for five seasons, returned as the featured soloist with the orchestra in March. She plays the Bruch Violin Concerto.
Season 27 Winter Concert

February 25, 1990
Soloist Mark Peskanov

Spring Concert

May 27, 1990
Soloist Elizabeth Kipper