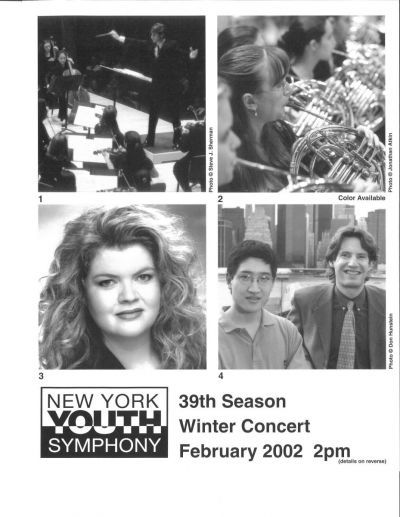 Season 39 2001-2002
New York Youth Symphony launched its website:  www.nyyouthsymphony.org.
The season ("A Brahms Season") opened Mischa Santora's concluding season as music director with Stravinsky's The Rite of Spring.  The New York Times noted of the performance:  "Mr. Santora and his musicians seemed to have little trouble navigating the piece or investing it with the energy and color it demands."  Violinist Elmar Oliveira performs Brahms Violin Concerto.
The seventh presentation of The Kesselman Award was made to Phyllis Susen Barbash, the recently retired director of education of Carnegie Hall, by New York State Senator Roy M. Goodman.
The New York Times:  "Concerts by the New York Youth Symphony are always ambitious and exciting . . ."  (Tommasini 12-7-01)
The New Yorker:  "Gotham's outstanding orchestra for teen-age players. . ."  (2-18/25-02)
Itzhak Perlman made a cameo appearance backstage at the Colden Center concert in November to congratulate violin soloist Giora Schmidt.
WQXR-FM and The McGraw-Hill Companies' Young Artists Showcase featured the New York Youth Symphony performances of Brahms works: Academic Festival Overture and Symphony No.1.
The February orchestral concert featured soprano Jessica Jones in her Carnegie Hall début as the sixth young artist to do so in the Durst Début Series.  Mischa Santora also conducted Brahms's First Symphony.
The final concert and the farewell performance of Mischa Santora as Music Director was a collaboration of the orchestra with soprano Lauren Flanigan, bass William Stone, and a 175-member combined choir from Queens College and SUNY Buffalo in a performance of Brahms's A German Requiem.
The Chamber Music Program concluded its season with a recital in April at Weill Recital Hall, and Making Score presented its second season-end performance in May, also at Weill.  Works by four Making Score participants are performed by the 17 first chairs of the orchestra conducted by members of the Apprentice Conducting Program.
Debut Concert

December 9, 2001
Soloist Elmar Oliveria, violin

Season 39 Winter Concert

February 24, 2002
Soloist Jessica Jones, soprano

Spring Concert

April 28, 2002
Soloist Lauren Flanigan