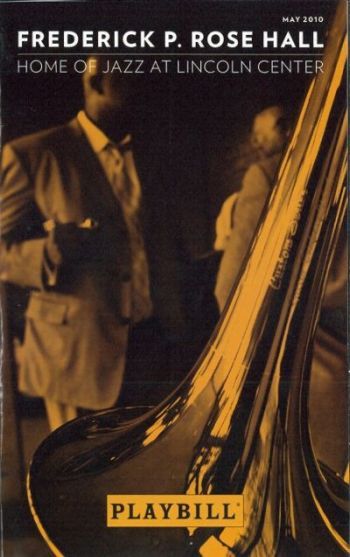 Season 47 2009-2010
The Carnegie Hall season opened 11-24-09 with the orchestra under Ryan McAdams performing for the first time with Jazz Band Classic as guest in Tchaikovsky's "Nutcracker Suite," each movement followed by the band's performance under Chris Winans of equivalent movements of the Duke Ellington-Billy Strayhorn arrangement of the Tchaikovsky.  Also on the program are Ravel's "Daphnis and Chloé," Suite No. 2; and First Music-commissioned composer Kyle Blaha's "Filigree" for clarinet and orchestra, Sarah Beaty, soloist.
The 15th presentation of The Theodore L. Kesselman Award for Arts Education is made by actor Sigourney Weaver to jazz saxophone legend Jimmy Heath.  Elliott Forrest emcees.
Time Out New York magazine:  "Ryan McAdams leads this consistently impressive youth ensemble in a joint appearance with Jazz Band Classic, during which the two groups will mix and mingle Tchaikovsky's Nutcracker Suite with a jazz arrangement of the same music by Duke Ellington and Billy Strayhorn."  (listing  11-20-09 issue)
Selections from Tchaikovsky's "The Nutcracker Suite" are broadcast 12-23-09 by producer Robert Sherman of "The McGraw-Hill Companies' Young Artists Showcase" on WQXR-FM.  Both the orchestra and Jazz Band Classic are featured.
Robert Sherman of "The McGraw-Hill Companies' Young Artists Showcase" again broadcasts on 3-3-10 on WQXR-FM music of the New York Youth Symphony.  Ravel's "Daphnis and Chloé, Suite No. 2" and Blaha's "Filigree for Clarinet and Orchestra" with Sarah Beaty are aired, Ryan McAdams conducting.
The orchestra opens its winter concert in Carnegie Hall with First Music-commissioned composer Timothy Stulman's "Element Cycle" before performing Rachmaninoff's Third Piano Concerto with the début of Adam Golka, and Stravinsky's "The Rite of Spring."
The orchestra is again featured on WQXR-FM (105.9FM) as program producer Robert Sherman hosts "The McGraw-Hill Companies' Young Artists Showcase" on 5-5-10.  Broadcast is the orchestra's performance the previous March of the second part of Stravinsky's "The Rite of Spring."  Ryan McAdams conducts.
The New York Times:  The concerts by the gifted players of the New York Youth Symphony are always worthwhile.  . . . Every New York Youth Symphony concert at Carnegie Hall includes the premiere of a work by a young composer.  . . . Few major orchestras can match this ensemble's commitment to new music."  (listing 5-21-10)
Time Out New York magazine:  "The NYYS puts on an impressive show with Stravinsky's Rite of Spring."  (listing  3-3-10 issue)
The orchestra concluded the season in Carnegie Hall on 5-23-10 with a performance featuring Verdi's Overture to "La forza del destino," Strauss' challenging tone poem, "Ein Heldenleben, and the première of Elliott Bark's "Shalom" for flute and orchestra.  Flutist Alex Sopp, the 20th soloist of The Roy and Shirley Durst Début Series, is featured in the new work.
The New York Times:  The headline and sub-headline, respectively, are "A Display of Young Muscle, Flashing New Chops" and "The program by the New York Youth Symphony on Sunday afternoon was characterized by its professional polish."  Review follows:  "I have yet to attend a concert by the New York Youth Symphony from which I have not come away struck anew by the polish and confidence reliably shown by this excellent ensemble of student musicians ages 12 to 22.  Its programs follow a formula: nearly all include a noteworthy soloist, a premiere by an emerging composer and at least one repertory staple.  But what a formula, and what a remarkable value its inexpensive tickets represent.
On Sunday afternoon the orchestra opened the final concert of its 47th season at Carnegie Hall with an electrifying rendition of Verdi's Overture to "La Forza del Destino."  Ryan McAdams, the ensemble's accomplished young music director, led a taut, dynamic account, with potent brasses, sumptuous strings and expressive winds doing work equal to that of most professional ensembles.  . . . The concert concluded with a robust account of Strauss's "Heldenleben," with articulate contributions from woodwind players representing nattering critics and a luscious rendition of the rich love theme."  (Steve Smith  5-25-10)
The New York Times:  The headline is "Solti Award for Music Director of New York Youth Symphony," the 'Arts Beat' blurb continuing, "The Solti Foundation U.S. has given Ryan McAdams, the music director of the New York Youth Symphony, a $10,000 prize for emerging conductors, the foundation said on Thursday.  Mr. McAdams, 28, has been advancing quickly in the orchestra world . . . "  (Daniel J. Wakin  6-3-10)
The New York Times:  The headline is "Youth Movement, New York Edition," continuing that "The Philharmonic is not about to start a youth orchestra program, like Mr. Dudamel's in Los Angeles.  But New York already has such orchestras, including two that are thriving:  the New York Youth Symphony and the Children's Orchestra Society.  (Anthony Tommasini  7-6-10)
Jazz Band Classic opened its subscription season in Symphony Space with performances 12-11-09 and 12-12-09 called "Bebop Big Band."  The program with guest tenor saxophonist Rich Perry highlights works by John Coltrane, Dizzy Gillespie, and Thelonious Monk, among others.
The band performed under Chris Winans direction in Symphony Space on 3-26-10 and 3-27-10.  Trumpeter Ingrid Jensen is the soloist in a program entitled "Setting Standards." The band opens with the music of W.C. Handy, Cole Porter, and Sonny Rollins.
The annual recital of the Program at the National Arts Club on 3-24-10 features the first presentation of the "Robert Mann Chamber Music Award for Performance and Teaching" to founding violist Kazuhide Isomura of the 40-year-old Tokyo String Quartet.  Program director Lisa Tipton presents the award to Mr. Isomura, who is also a master's coach of the Program for many years.  Six Program ensembles perform, followed by a champagne-and-dessert reception in the parlors of the Gramercy Park institution.
Among three season-end recitals are performances by Program musicians in Symphony Space on 4-21-10 and 4-22-10.  In total, 23 ensembles perform.
The Open Society Institute, a foundation headed by billionaire investor George Soros, awards a total of $11 million to New York City performing arts institutions with emphasis on education.  The New York Youth Symphony, receiving a two-year grant of $150,000 is one of 80 such recipients.
Debut Concert

November 22, 2009
Soloist Sarah Beaty

The McCrindle Concert

March 7, 2010
Soloist Adam Golka

Spring Concert

May 23, 2010
Soloist Alex Sopp

Bebop Big Band

December 11, 2009
Soloist Rich Perry, tenor saxophone

Setting Standards

March 26, 2010
Soloist Ingrid Jensen, trumpet

Swingin' the Eighty-Eights

May 25, 2010
Soloist Geoffrey Keezer